Through their experience and passion, Love Olive has developed a number of personal relationships that have secured the best olive selection in Ireland.
Through independent buyers they source premium quality olives from Europe, the Middle East and beyond providing an unrivalled choice that gives their customers the pick of the best olives from any growing region on earth.
90% of the olives are sourced in Greece as continuity of supply is important. But there is another reason too. Given the varying terrain and temperatures, soil systems and growing conditions, Love Olive considers the Greek olive to be unsurpassed.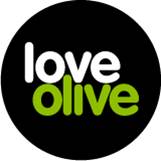 FACTS ABOUT OLIVES

 Olives are rich in Vitamin E and 'good fat'.
 The olive flower is white and only flowers after four years.
 Olive trees are harvested for the first time after 15 years.
 It takes seven litres of olives to make one litre of olive oil.
 The world consumes about 2.25 million tonnes of olive oil a year.
 The average life of an olive tree is between 300 and 600 years.
Love good food? Love Plassey Food with award winning olives from Love olive!
All on offer this July: Slow roast (cherry) tomatoes, Sun-dried tomato pesto, smoked tomato pesto, Chillie & Basil Hummus, Traditional Humus and amazing stuffed peppers. See our "The Menu magazine" for details.