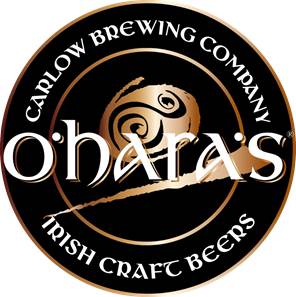 At Carlow Brewing Company, also known as O'Hara's Brewery, they craft brew traditional Irish beers and our have their own interpretation of international beer styles, including stouts and ales, wheat beers and lagers, all carrying the brewery founders family name O'Hara's.
Each beer is crafted using classic brewing methods to create the traditional Irish beers styles that have long since been forgotten by many of the larger breweries. O'Hara's just use four main ingredients; water, malts,hops and yeast to produce the highest quality craft beer range.
The  brewers also enjoy the opportunity to produce seasonal and limited editions each year. We hope you share in our passion, taste our beers and enjoy the experience.
Great offers on O'Hara's but must end 31st July 2016
O'Hara's Curim Gold 500ml x12  – was €32.50 NOW €25.50
O'Hara's Double Irish Pale Ale 500ml x12 – was €35.95 NOW €27.95
O'Hara's Irish Stout 500ml x12 – was €34.50 NOW €26.75
O'Hara's Leann Folláin Irish Stout 500ml x12 – was €34.50 NOW €26.75
O'Hara's Pale Ale 500ml x12 – was €32.50 NOW €26.50
O'Hara's Red Ale 500ml x12  – was €32.50 NOW €26.50
O'Hara's Irish Stout
has a robust roast flavour complemented by a full-bodied and smooth mouth feel. The generous addition of Fuggle hops lends a tart bitterness to the dry espresso-like finish. Rich complexcoffee aromas mingled with light liquorice notes. The combination of traditional stout hops with an extra pinch of roast barley allows us to stay true to Irish tradition.
Style: Traditional Dry Irish Stout – ABV: 4.3%
O'Hara's Red Ale
This Red stands out in this beer style category. The malt body is as impressive as a bock, albeit in a uniquely Irish way. With an incredibly smooth malt body complimented by caramel tones and perfectly balanced in bitterness, this Irish Red is much more complex than it's mainstream rivals.
Style: Traditional Red Ale – ABV: 4.3%
O'Hara's Pale Ale
A Contemporary style IPA with an Irish twist. Combining the balance of European IPAs with the generous dry hopping of American pale ales (APA's). Zesty and refreshingly bitter, the finish is long. With a copper toned body topped with a lightly carbonated head, the dry hopping brings an intense aroma and lasting array of fruit and floral notes.
Style: Contemporary Style IPA – ABV: 5.2%
O'Hara's Leann Folláin
The name is the Gaelic for "wholesome stout", our full-bodied extra Irish stout is a fantastic example of how good stout can taste.Flavours of dark chocolate tones with a hint of vanilla combined with the mild mocha aroma.
Style: Extra Irish Stout – ABV: 6.0%
O'Hara's Curim Gold
Inspired by an old Celtic word for Beer, "Curmi/Cuirim", this delightfully refreshing wheat beer with a higher hop rate than the mainstream wheat beers which leaves a slight tart residue, enough to balance the delicate fruity flavours of peach, banana and plum.
Style: Celtic Wheat Beer – ABV: 4.3%
O'Hara's Double IPA
A full-bodied, full on Double I.P.A. combining caramel and malt flavours with a well-balanced and substantial bitterness. Light carbonation allows the full flavour of this Double IPA to shine through. At 7.5% abv, the high alcohol content is balanced with a caramel sweetness and a full bodied malt character
Style: Bold Double IPA – ABV: 7.5%