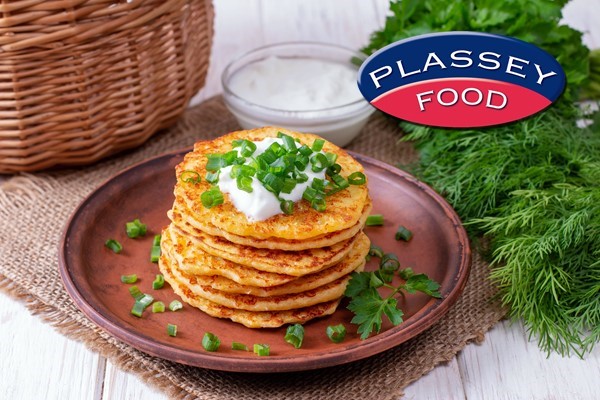 This Irish-inspired snack, breakfast, brunch or alternative side dish is based on 'boxty', or potato cakes.
Prep 15m    Cook 30m + cooling
Serves 2 (Makes 6 pancakes)
Ingredients
140g floury potatoes (weighed after peeling) cut into large chunks
50g self-raising flour
½ tsp bicarbonate of soda
3 large eggs
5 tbsp milk
3 spring onions, finely chopped
2 tsp sunflower oil, plus extra if needed
knob of butter
6 rashers streaky bacon (smoked or unsmoked)
Method
Put the potatoes in a large pan of salted water and boil until tender. Drain well, tip back into the pan, shake for 1 min over a gentle heat to dry them off, then mash and leave to cool.
Put the cooled mash in a bowl with the flour and bicarb. Whisk 1 egg with the milk, season, tip into the bowl and whisk until smooth. Stir in the spring onions, reserving some to serve.
In a non-stick frying pan, heat half the oil and butter until sizzling, then spoon in half the pancake batter to make 3 pancakes. Cook for 1 min or so on each side until
Source: BBC Good Food