Pan Seared Duck with Smoked Bacon Kugelis, Black Pudding Spring Roll and Forest Fruit Jus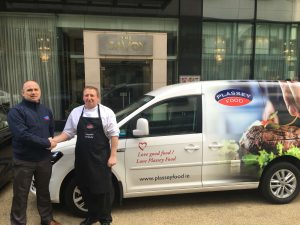 Stephen Smith – Executive Chef Savoy Hotel, George Hotel, Hamptons Bar & Grill & Da Vincenzo's Italian Restaurant

INGREDIENTS
4 Duck Breast
1kg grated Potato
6oz chopped smoked bacon
I large white Onion
4 Sheets Spring roll pastry
8oz Black Pudding
200ml Fresh Cream
8oz fruits of Forrest berries
200ml Cranberry juice
20z brown sugar
Tablespoon of white Vinegar
Veal Jus
4oz butter
Seasoning
Selection of baby vegetables like baby asparagus,baby beets, baby carrots, Fennel, etc.

METHOD
Mix the grated potato, chopped onion bacon and butter in a bowl over boiling water until mixture becomes sticky, season then place in a tray and bake in oven 180 degrees C for 25 minutes. Mix the black pudding with cream a little at a time to a soft texture, then roll in spring roll pastry and refrigerate immediately. Dissolve sugar in a pan with vinegar then add cranberry juice and reduce for 3 or 4 minutes, then add veal jus and fruits of Forrest berry mix and simmer for 4 mins then season.
Trim Duck Breast, then seal Skin side down and season, cook for 3 or 4 mins in oven at 180 degrees the put on a dry cloth to rest. Boil or steam selected vegetables. Cut out required shape from potato cake, deep fry Spring roll, and assemble on plate, Season vegetables and add small touch of butter to glaze. Slice Duck into desired slices not to thick and assemble lightly coat duck with berry sauce and serve.