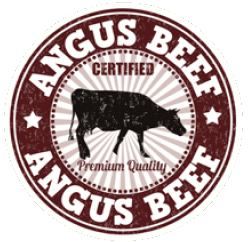 Plassey Food offers a great range of certified Angus beef products, covering:
Striploins,
Beef Fillets,
Beef Cube Rolls,
Beef Rump,
Beef Top Side,
Striploin Steaks,
Beef Fillet Steaks
Diced Beef
View our product catalogue* for more details
* Plassey Food Meat Catalogue 2016 – PDF approx. 2.2Mb
Certified Angus Beef
When buying Certified Angus Beef you can be assured that your beef is the utmost of quality from Angus beef inspected animals and can be traced back to Bord Bia Quality assured farms.
The process for certifying Angus beef is thoroughly traceable and continuously assessed so that from producer to consumer, every process along the way is seamless. Here are some of the rules involved with certifying
Angus beef through Angus Beef Ireland:
The producer's farm must be Bord Bia Quality Assured
All animals for slaughter must be sired by a pedigree Angus bull and have AA or AAX on their ID cards. They also have a visual assessment for Angus characteristics by trained personnel.
A proactive approach to trace-ability is taken in conjunction with the factories which includes regular DNA sampling of counter meat which can be traced back and regular audits and strict record keeping.