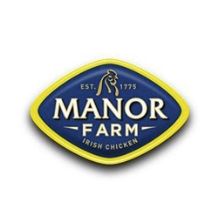 Manor Farm, one of the oldest family companies in the country
Carton Bros is the name of the company that produces Manor Farm chicken. It is one of the oldest family companies in the country and dates back to 1775 when it was first born in the very heart of trading in the Dublin Markets.
Corn Fed Chicken – unrivalled taste
All Manor Farm Corn Fed Chickens come from local farmers  in counties Cavan & Monaghan and are fully traceable back to the farm they came from. They use only a select number of Farmers to grow their Corn Fed Chickens.
They are bred on a diet that contains more than 50% maize (corn) which gives the meat a unique golden appearance but more importantly it gives  the chicken an exceptionally succulent roasted flavour. Other ingredients in their feed include wheat and soya. Corn Fed chickens are completely unrivalled in taste, texture and look.
Free Range Chicken – fuller flavour
Manor Farm Free Range Chickens are slow grown which means  they have long happy lives. All of our farmers are hand-picked and only grow for Manor Farm. They comply with all standards laid down by Manor Farm and ensure the chickens have fuller lives.
The Free Range Chickens have access to green pasture, food and water and  clean bedding at all times to express natural behaviours. This also results in the chickens developing a fuller flavour and texture, incomparable to other   breeds. Free range chickens must be fed no less than 70% natural cereal such as wheat. Other ingredients include soya and rape seed.
How to Spatchcock a Chicken