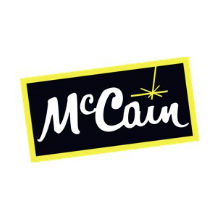 Passionate about potatoes
At McCain, we're passionate about potatoes. And with our potato products, we aim to bring joy to everyday meal times. As a family-owned company, we care both about using simple ingredients in our products and about our people who make them.
Here you'll find out everything you need to know about who we are, how we create simple food that tastes good, our sustainability projects and where we – and our potatoes – come from, as well as getting to know the farmers we support and who grow the potatoes we use.

Simple ingredients, prepared with care
How do we make chips? Like our potatoes, we keep it simple. We simply wash, peel and cut our spuds, then lightly fry in sunflower oil. Then we freeze them. And that's it. Some of our products do have natural coatings or flavourings.
The simple truth about McCain:
No artificial colours or flavours
97% of our potato products have only green or amber nutritional indicators, meaning they're low in saturated fat, fat and sugar.
Most of our products are low in salt and we're continually looking to reduce this where possible.