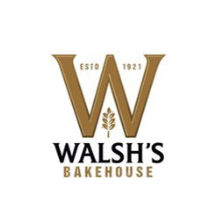 Walsh's Bakehouse, the home of the Waterford Blaa
Walsh's Bakehouse is a family-run bakery located in the heart of Waterford City.  Founded by their grandfather in 1921, the bakery has been run since 1985 by brothers Michael and Dermot Walsh who are third generation bakers in the Walsh family.
The company bakes a range of bread products for the retail and food service trade in the Southeast providing a variety of traditional bakery products from blaas, turnovers, brown and white sliced and a range of morning goods.
Walsh's Bakehouse has received numerous awards over the years including a Blas na hÉireann gold award in 2012 for the Waterford Blaa.  The Waterford Blaa is the center of its' repertoire and is an indigenous food in the Waterford area.
The Blaa received the PGI (Protected Geographical Indication) in 2013 from The European Commission which means that it can only be produced in Waterford and Southeast Kilkenny

Have a look around the bakery